Due to the current high Covid-19 outbreaks, The Church Safety Committee and Church Board are closing the church until a safer time.  There will be no services on 1/29/22.  Adult Sabbath School and Church Services are available at multiple online ministries, and we recommend you hold your Sabbath Services online.  Look under the Bulletin and Resources tab, or click here for TV stations.  NAD Churches that Live-stream can be found here.
---
---
For those using the above "Online Giving" tab (which is where the above TITHE link takes you), click on the "More Offering Categories" on the e-envelope to find ministries to donate to. 
To see some old photos please see :https://www.wickfordsdachurch.org/ministries/church-board
Did you miss last week's service?  You can watch it on our Facebook page.  Look for the FB link.
---
Read the Atlantic Union Gleaner Magazine.  It's a great way to keep up with the local SNEC and Atlantic Union news.
---
Do you know about NAD Newspoints?  Catch it here.  It's a great way to keep up with the Seventh-day Adventist Church at large.
---
Friday Evenings Prayer line is @ 8:00 PM until further notice. (605) 313-4820 code 499954
New information about Wednesday Prayer Meetings starting 9/15/21 is below. 
Meeting Times 7:00 pm-8:30 pm. 
Adult Sabbath School is FREE online if you can't make it to church.  Don't have a Quarterly? Follow along by clicking on the links below, you can easily follow along with your daily readings or watching.  Click where it says "Go to Lesson" and pick out the best options for yourself.
Find Children's Gracelink here;  It's the Sabbath School for  Children's lessons of the SDA and has multiple Sabbath School lessons for different ages.
We support the Navajo Nation both at the Chinle SDA Church and the Holbrook Indian School.  Here is the latest newsletter. Feel free to donate privately if so moved. OR are you being called to be a missionary there?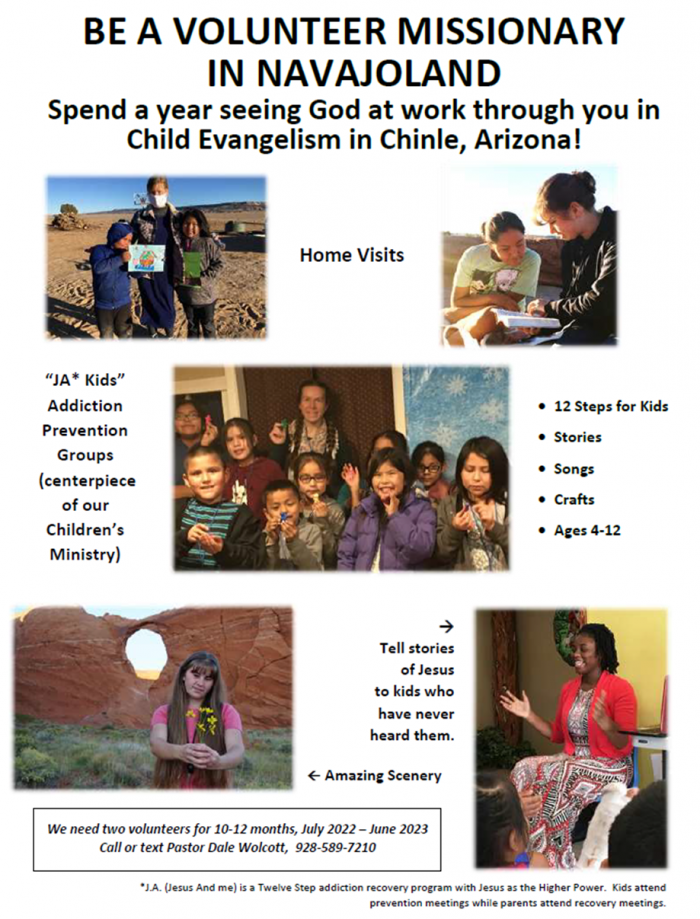 Church Events is now the 2nd tab at the top.  You can see a calendar list, a daily calendar, a weekly or a monthly calendar, your choice
Our Bulletin and other items are found on "Resources for you!" tab. 
Ministry Schedules and other Ministry news are found on the Ministries tab.
Click and use the Drop-Down menus (the little down-pointing triangle on the side of the label) to find what you are looking for.