12/02/23 SERMON BY MARY ONUNGWE. "SABBATH TRADITIONS AND TESTIMONIES"

12/03/23 SUNDAY 3PM Stretch for health PROGRAM scheduled at Burrillville sda church 

2/9/23 WE WILL HAVE COMMUNION

01/10/24 "TEN DAYS OF PRAYER" THROUGH JANUARY 20TH

1/28/23 Stretch for health PROGRAM HERE AT WICKFORD TIME TBA

Don't forget! Food, gloves and items for THOSE IN NEED.

Bins WILL BE in the Lobby and ground floor
Member Visitation, What is it? It can be sending a note, a phone call, an email, an e-card, a text message or an in-person visit all qualify as this.  Make it a goal to reach out to someone in the church or visitors each week to keep in touch, ok? 
---
Bible Studies/Prayer Meeting on Wednesdays at 7:00 PM. come bless Us!
Meeting Times 7:00 pm-8:30 pm @  church.
Zoom meeting account. https://us06web.zoom.us/j/7089694864?pwd=L2xUc3FSc0ptVURZaXl5M0FhenF3UT09
Meeting ID: 708 969 4864.  Passcode: c9zgdc 
Look at ZOOM HELP on the church's Calendar if needed!
---
vespers this Friday December 1st will be held at Grace and glory church, 1196 Eddy Street in providence, at 6:30pm
https://graceandgloryri.adventistchurch.org/
or join in the Prayer Line Phone-in meetings every Friday night  at 7:00 PM
FOR PRAYER LINE, Call: (605) 313-4820  then use.... Code: 499954 then hit the# (Pound sign)
---
Message from Pastor Yeison Gonzalez:  November 2023
Thanks for visiting our website. We are a group of Christian believers who look for meaningful ways to practice and live our faith in Jesus Christ our Lord. We believe in Christ's second coming and while we wait for his soon return, we do not want to be withdrawn from the world around us or live with an escapist perspective. We want to use our waiting to look for ways to show Christ's love to the world, and to fulfill his mission of expanding his kingdom. We believe that our task is the mission of Jesus Christ to the world, which he defined using the words of the prophet Isaiah: "The Spirit of the Lord is upon me, because he has anointed me to proclaim good news to the poor. He has sent me to proclaim liberty to the captives and recovering of sight to the blind, to set at liberty those who are oppressed, to proclaim the year of the Lord's favor." (Luke 4:17-19 cf. Isaiah 61:1-3). This is a gospel of love, of charity, a gospel that looks to promote social justice and care for the world as God's creation. We believe that God calls us to rest, a Sabbath rest, a time for community, for family, a time to stop consumerism, but overall, a time to meditate on God and his creative and redeemer character.  
We invite you to come and worship with us. To come and join our spiritual and social activities and serve the community. Come and join us for bible study and worship together every sabbath. Write to my email ygonzalez@sneconline.org with any questions.
God bless you~~Pastor Yeison Gonzalez~~
This church and the church at large will be joining together January 10-20, 2024 for this great opportunity to plead God's grace and mercy.  God bless you! More info here.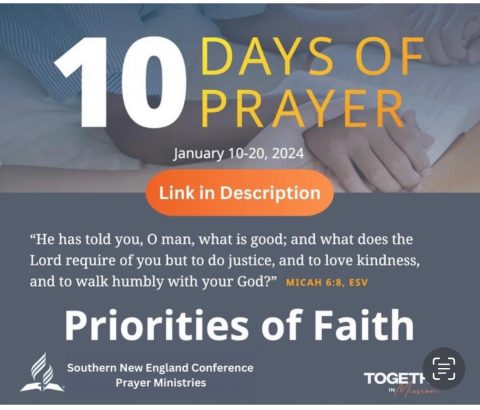 ---
 SNEC Tithes and Offering schedule is here
Adventist Mission Stories can be found here.
Scroll to the week you would like to find. 
---
Don't have a Quarterly study booklet? Follow along by clicking on the links below, you can easily get your daily readings or watch the lessons & Click on the app below
Find Children's Gracelink here;  It's the Sabbath School for  ALL Children's lessons of the SDA and has multiple Sabbath School lessons and formats for different ages. Below is the Primary Video for Children ages 5-9 years old, Lesson 9
From the Amazing Facts Ministry:  Sign up for their free Online Bible School here!
---
Use this THINK acronym to help guide us with conversations
T…  is is true?
H … is it Helpful?
I…   is it inspiring?
N… is it necessary?
K… is it kind?
---
As a church, we support the Navajo Heartland Ministry at the Chinle SDA Church.  Please donate there or to the Holbrook Indian school if desired.  We also support the Holbrook Indian School in prayer.