Our Conference President, Elder David Dennis and his wife Sharmon, are both in the hospital sick with Covid. Please please pray for God's blessing upon both of them.​​​​​​
---
Overall Church occupation has been increased to allow for full occupancy of up to 200 individuals inside and up to 250 individuals outside gatherings. For our Church the Safety committee recommends that we still wear masks while at Church. Social distance has been reduced to 3 foot separation.  Please see all the Safety Committee's recommendations under the Ministries Link @ the bottom of the page.
---
Adult Sabbath School Class starts at 9:45 AM: Mission story,
Video clip and Sabbath School, then Announcements
Tithes and Offerings are for our Church Budget
Did you miss last week's service?  You can watch it on our Facebook page.  Look for the link.
---
Camp-Meetings 2021 for SNEC Cancelled!
Camp-Meetings and Lake Winnekeag Camp Meetings have been cancelled due to Covid restrictions.
Our Bulletin and other items will now be found on "Resources for you!" tab. 
Ministry Schedules and other Ministry news are now found on the Ministries tab.
Click and use the Drop-Down menus to find what you are looking for.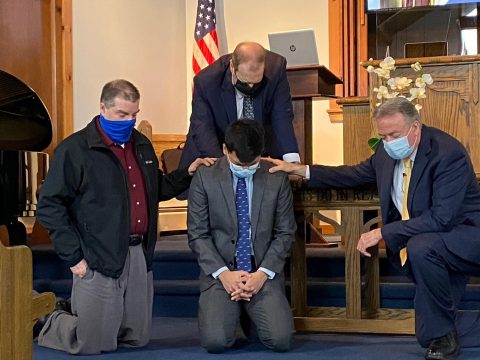 Blessed News! Our beloved church member, Frentzen Pakpahan, has been ordained at his new church on January 16th, 2021. God bless you always, Frentzen!