Saturday 7/31/21,  Ray Carlson will be preaching about the "Safety of Abiding in the Presence of God".  Join us this Sabbath (Saturday)!
Sunday 8/1/21 is scheduled our Mount Monadnock Hike. It's one of the worlds' most hiked mountains we are told!
Sunday 8/8/21 we will host a "Drive-Request" Drive through with optional Health Blood pressure check, from 9:00am to 12:pm.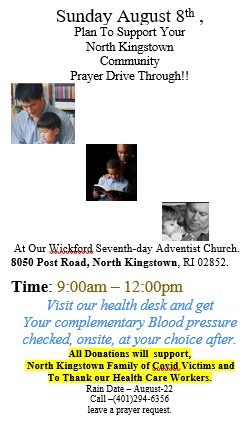 The Chinle Indian Church in the Navajo Nation is a ministry this church supports quarterly.  They are also doing outreach with "Diné Adventist Radio." 
---
Prayer line on Friday Evenings time has been officially changed to 8:00 PM for the rest of Spring, Summer and early Autumn. *****  We have multiple families going through a time of health hardships.  Please remember to pray.
Wednesday Evenings Bible Study  = 7:00 pm - 8:30 pm
Zoom: https://zoom.us/j/508086858  
               Meeting ID:508086858
               Password: 101844
Phone : (929) 205-6099  
 Meeting ID: 508 086 858 #  
Password: 101844 #
We are hoping to soon resume meeting at church!  Info to follow
Overall Church occupation has been increased to allow for full occupancy of up to 200 individuals inside and up to 250 individuals outside gatherings. For our Church the Safety committee recommends that we can remove our masks while at Church. Social distance has been reduced to 3 foot separation.  Please see all the Safety Committee's recommendations under the Ministries Link @ the bottom of the page.
Did you miss last week's service?  You can watch it on our Facebook page.  Look for the link.
---
Our Bulletin and other items will now be found on "Resources for you!" tab. 
Ministry Schedules and other Ministry news are now found on the Ministries tab.
Click and use the Drop-Down menus to find what you are looking for.